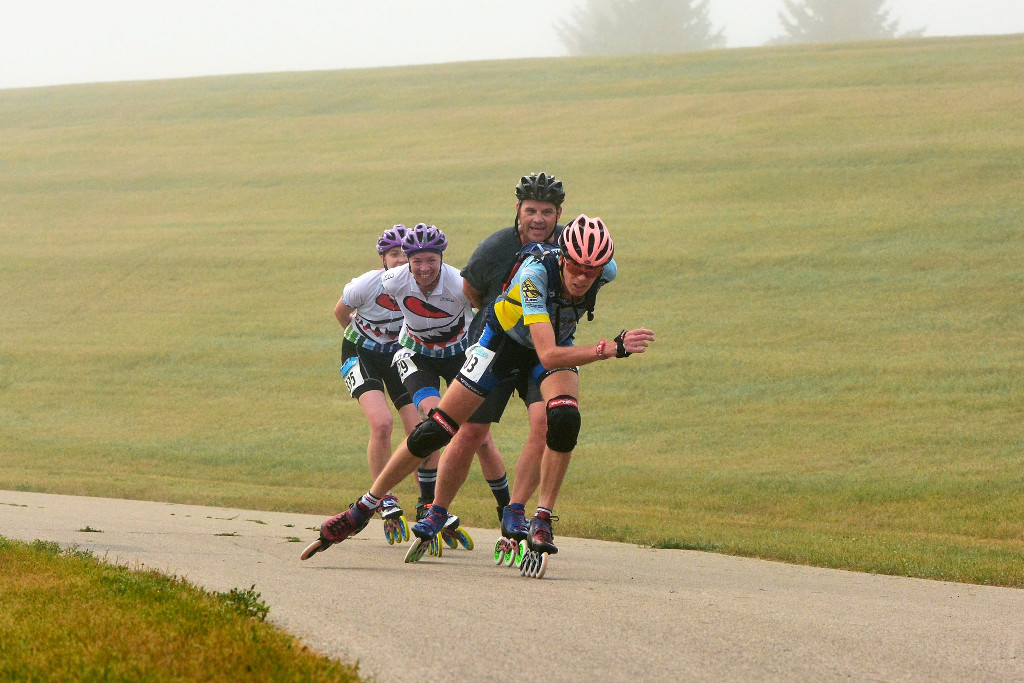 A story of Grand Forks always begins in the dark. Itís early. Impossibly early. Two alarms went off at 4am. Did I get enough sleep? Are you kidding? At 5:30, I was driving the short distance to Choice Health and Fitness to catch the bus to the start. Still very dark and enveloped in fog. Iíve done this before so Iím not all the concerned about getting lost. That is, until I enter the parking lot. Now I have to find where, in this sea of asphalt do I stop? I canít see the buses. I canít see to the other side of the lot. But I see tail lights and follow them to a parking space that looks close enough. Only at the end, can I see buses.
The buses left right on time: 6am. It was still dark. The fog was still nearly impenetrable. I hoped/assumed that the blanket would lift before we started racing.
We arrived at 6:30pm and the next problem became apparent: There are only two porta-potties and there is a long line forming. Unfortunately, skipping is not a viable option. By the time I was done, I barely had enough time to gear up and get to the start line. No time to assess or position. The race was on!
For a couple of miles I gave chase to pretty much the only skaters I could see. My target eventually linked up with another. I was moving fast but not fast enough. They disappeared into the white.
It was about that time that the woman behind me made herself known. I kind of knew she was back there. It just wasn't my concern during the chase. With my quarry out of sight I rotated off the lead and slipped in behind noting that there were two.
For a dozen miles we pushed the pace on possibly the straightest, flattest, and for most of it the smoothest segment in racing. About 20mph I or the older woman were in front, about 16 for the younger. Sometime after the pavement ceased to be wonderful (but still reasonable), we picked up a guy who must have been with guy I was chasing at one point.
With four we were able to mostly maintain speed. Well there was a short stretch with surprise speed bumps. They kind of jumped our at me in the fog but we managed to manoeuvrer around them.
Next was the trail segment. Being trail, it is not all that wide. Rotating is a bit awkward. I probably pulled longer than I should have. I remembered the trail being discontinuous. I thought I could just wait until we transitioned to road. But the trail was longer than I remembered. I slowed to consider direction and the guy behind offered to take the pull. I moved to the back. We did eventually move to road but it was miles further.
Short road lead to short trail and then back to road. We took short pulls through town. The piece was not as pleasant. We fought a head wind, traversed segmented slabs and sorted out directions nearly by vote. I found myself in the lead as the final turn came into view and put the hammer down.
Around the turn. Finish in view. Full sprint. What is that truck just off the course on the left doing? What the %#$? My open road survival instinct kicked in and I backed way off. My pack mates did not. After determining that the truck had stopped and there was still room to maneuver, I resumed pace. But it was too late. I finished well behind the group.
At the awards, I learned that my male pack mate took the third and last podium spot. He didn't even stick around to collect his prize. Annoying. Still it was a fun race. The fog never lifted, something I've never experienced in a race. The pace was very slightly slower than 2015 without the benefit of that colossal tail wind.
I hope Rolling on the River hangs on. It's such a great course. It's the only closed course point race apart from Duluth. Hotels are even cheap. And yet attendance is dwindling. Up from last year when it had to compete with a solar eclipse early in the same week. Still it is down drastically from 2015 and is approaching the level where races die.