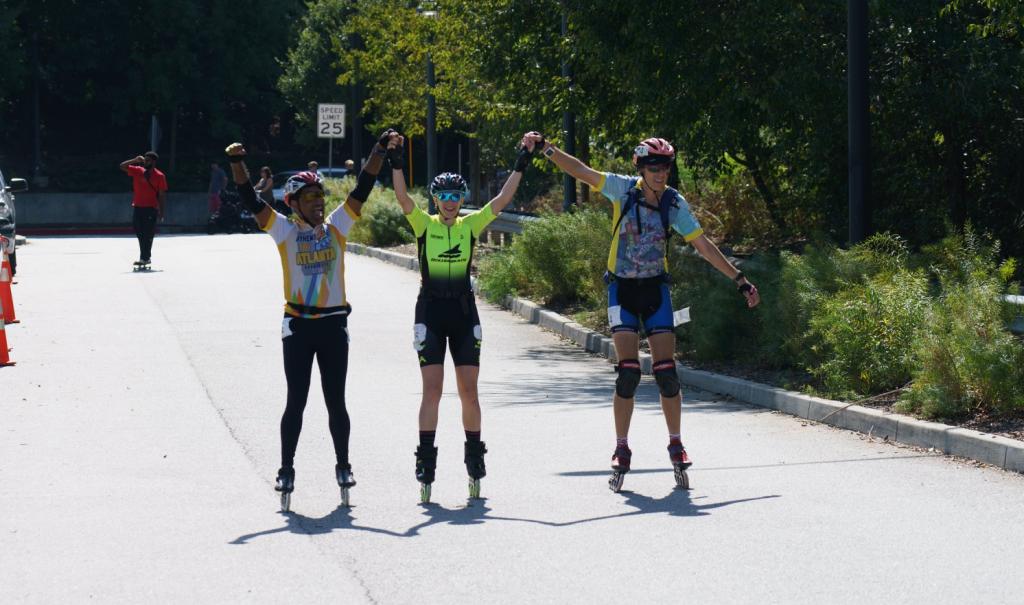 Getting into a good pace line at A2A has always been a struggle. The problem stems from the classic A2A start: Mild up then much longer decent leading to a 90 degree right turn. Invariably, I either panic and brake or find myself behind someone else who panics and brakes. By the time I get around the turn, the pack I need is beyond reach. In this decade "good pack" degenerated to "any pack". After 2015's somewhat respectable but almost entirely solo run, I had reached my limit.
I was not willing to repeat that experience. I practised extreme right turns when and where I could. I skipped A2A 2017 entirely because I didn't think I had the skills to make that turn successfully.
In 2018, I decided it was time for another go. I doubled down on my turn practice. I was willing to risk a crash and a DNF over repeating 2015. Unbeknownst to me, the start that had been constant for two decades, changed. I walked the course twice the day before the race. On the second pass, just before heading back to the hotel to pack and sleep, I noticed something important: In the middle, before the down to a right turn was a significant climb. This would thin the herd heading into the turn!
Race day began in the usual A2A fashion: early, chaotic, and deep foreboding. I need more sleep. Is my gut going to let me do this? Has my my downhill practice been enough? Am I agile enough to navigate the start and get into a pace line? Where are the checkpoint and Atlanta vans?
As I stood behind the Atlanta bound luggage van removing and stashing all remaining insulation, I new problem did not dawn on me. It's dark. At 7:30 light is dim but this is DARK. I can't use my sunglasses and my eyes don't work well in bright sunlight without them. What do I do? With 3 minutes to launch and no answers I did the only thing I could do. I stashed my sunglasses in the top of my camelbak and hoped for the best.
After negligible warm-up and no pre-start gu we were off! Down we went, then up up. I was right! The new slower but tighter hard right was uncontested. I zipped around the corner and into the packs forming on Dougherty. I used my new skills but I'm not sure that I needed them.
With Rick Sadlier, Sam Fistel, Sandra Spirovska and several more my primordial pack headed out of town. Good roads and more bad roads up down then the first big downhill. It's fast and still quite dark. The light was red and there was no traffic control.
Pandemonium. The pack scattered. I don't know where they all went or what they did. it was clear to me that I could not stop in time no matter what. I shot through in the unoccupied opposing lane. As perhaps the only one who didn't brake I effortlessly merged back into the front pack. We were seven or eight now, including Sam and Sandra but not Rick.
The next few miles tested my power, endurance and control. With poorly warmed up feet going fast on rough roads I felt like I was skating very inefficiently and probably was. For a while I was behind a teen skater in rec skates. He was strong but his draft profile was tiny and he kicked back. He probably cost me a couple of miles with this group. When we picked up Herb Gayle, I knew I was in trouble. Near mile seven, I dropped out.
After three miles of blissful decompression, I heard a voice from behind:
"Here comes the cavalry!"
It was our exuberant young race/parade organizer: Anna Zuver and a pack of eight. I merged in.
The pace was easier than Sam's pack though we did have two that hammered. I kept my early pulls brief. I was still recovering from the strain of keeping up with Sam's pack. We had nine, I think,of varying abilities. The pack was not as tight as Sam's but safe enough.
At the 38 finish we lost two including Candy Wong. We stopped at checkpoint 3. I moved a stash of salt tabs to a side pocket but declined to put on my sunglasses. It was still rather cloudy. I also declined to pick up a reserve water bottle. Never before had I used that bottle and I had a hunch that with the low temperatures of the day and a pace line, I could make it all the way to checkpoint five on the original three litres. We left as seven but soon reduced to five as Ted and Jack fell behind.
Our German racer and a young skater in rec skates ( not the same as Sam's pack ) still wanted to push harder than the remaining three were comfortable with but we stuck together. I was consuming a preposterous number of salt tabs keeping my cramps and, at one point, blatant gi distress at bay. At checkpoint four I broke a pattern from the last six events, I did not refill the camelbak. I did pick up up reserve bottle.
More hills. More traffic. The climb up Silver Hill was something of a reunion. From mile 10 to Dacula, we didn't see any skaters beyond those in our pack and only a couple 49ers after that. Now there were many. Mostly these were 49ers but also Herb Gayle!! He was having cramping problems. On the way down, I intended to do a solo bomb but instead air braked lightly to avoid manoeuvring around Anna at high speed. 37 mph on the first hump. 34 on the second. Underwhelming.
At checkpoint five, I finally refilled the camel. I also swapped in more salt tabs and gu packets. I pulled out the sunglasses and used the restroom. It was too much. I'm amazed they waited for me. Our captain, Anna Zuver told our German racer and his rec skater companion to go on without us. This was long overdue. And then there were three: Anna, Luke Sawh, and me.
After CP5, hills are smaller. Some pavement is good. Much is rotten. Traffic was heavier but many of the intersections were well controlled. Anna was fatiguing. I spent much time in front. On the last light before cp6, Atlanta police were on point, holding traffic for us. Every lane in our direction was occupied by a stopped car or two. It would be a tight squeeze. I could see that the opposing lane was clear. I chose my path.
And then it happened. A driver in the left turn pocket pulled into the intersection. Acting on pure instinct, I pulled an impossibly sharp left turn. I evaded the car but slid out, scraping my left thigh, shoulder, and face on the pavement. I was down mere seconds. As I got back on my wheels, I could hear the officer giving the driver a stern lecture that she had disobeyed a direct order to stop. I didn't hang around for the rest. It was only eight miles to the finish. If I had a concussion I would find out soon enough. I aimed to reach the end before my muscles started freezing up from the blunt trauma.
Anna and Luke were waiting for me at checkpoint six. We did not dally. I led the majority of the way. Anna thought I should be drafting them but, despite my "Mad Max" appearance, I felt pretty good and was motivated to finish the race as soon as possible.
But I would not leave our captain. Near Krog Tunnel, we agreed to come in together as a deliberate tie. Luke and I waited for Anna at the top of the last climb, held hands and rolled through the finish chute.
Six hours, forty three minutes. Way better than I've done in recent years, mostly attributed to a better start allowing me to get into a pace line. Well short of 2007 and 2008, though and remote from the five and a half that I've long maintained I could do if I held onto a fast pack all the way to the finish. Maybe that claim was unrealistic. Maybe I've gotten old or maybe the pace lines are now too small. Even Sam's pack fell short. Much to think about in the year ahead. I've already signed up for next year but that says much of my commitment to keep the event going and little about my choice to compete in 2019. Ask me again on Memorial Day.